Adding, Viewing & Printing Certificates
+ Receiving Reminders
ArchwayHR software is an easy way to maintain compliance, track training and ensure staff are progressing along their career path.
This post will outline how to add a new certification, attach a file and the various options you have afterwards. Using this feature will give you increased visibility and improve the accountability for skilled employees.
Adding
Click "Certifications" in the header to visit the Dashboard and see all certificates by expiry date. You can see if any are expired or expiring soon, and also search for specific qualifications that may be held by multiple employees.
To add a certificate, click "Add New" in the header and complete the form.You have the option to attach an image or pdf.
The Expiry Date you provide will be used to set the status of the certification, and trigger reminder emails based on your organization's settings.
To edit who receives the reminder emails, click "Edit info" in the Actions sidebar on the right side of the employee's profile. At the bottom of the form you can change an employee's subscribers.
If you need to make changes or upload a new file, click 'Edit' or click on the name of the certification. You can also upload any file to the employee's record (such as a profile photo or driver's license) without linking it, by simply clicking "browse", then "upload".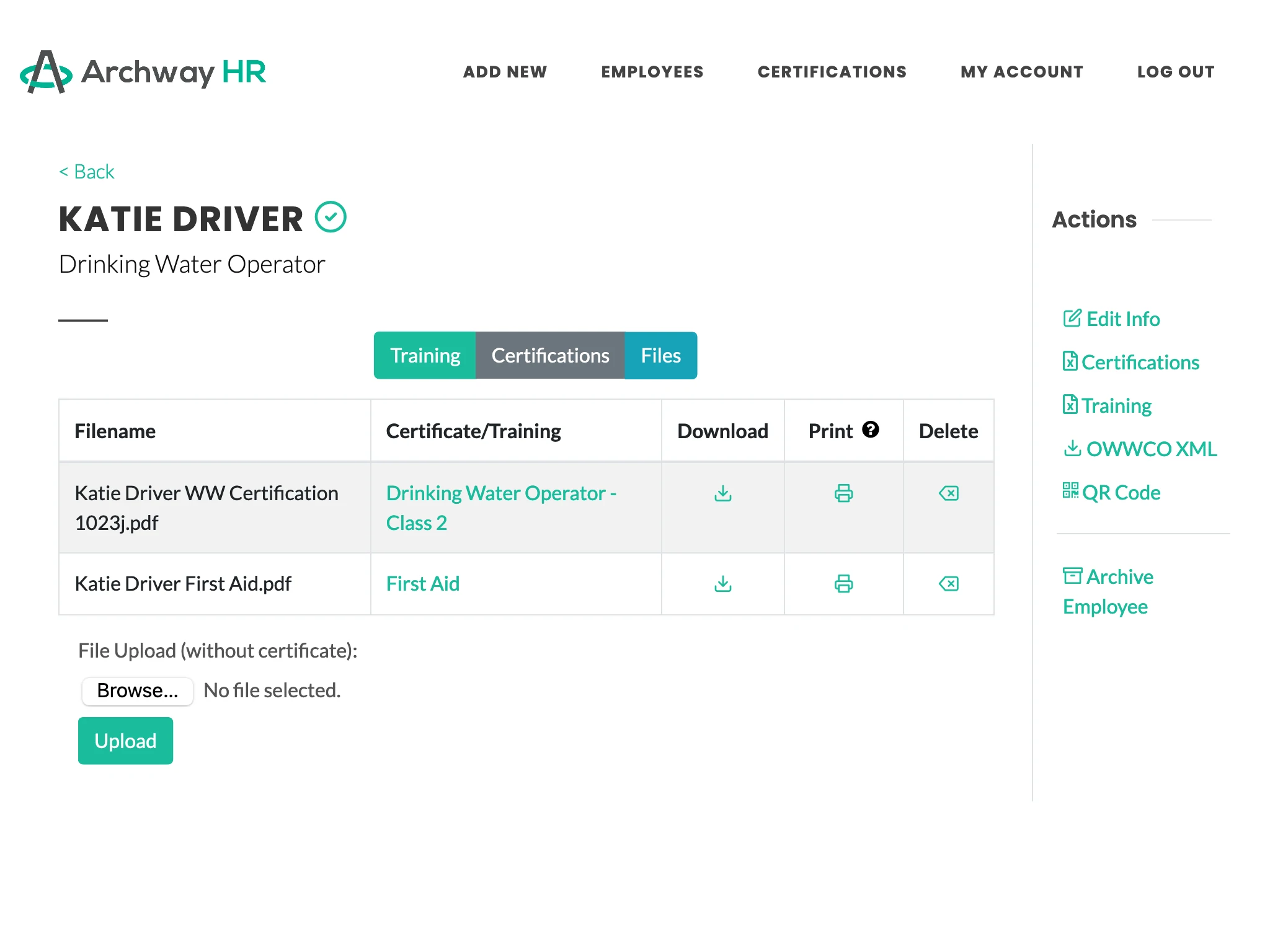 Viewing and Printing
You can download, print or delete files from the "Files" tab in the employee profile (pictured above).
Additionally, each employee has a personal QR Code, which is found in the Actions sidebar. This code can be printed and posted in a facility, or attached to the employee's badge/passcard. QR Codes can be scanned by any mobile device to instantly load that employee's certificates, ensuring the most up-to-date records are always easily accessible.
You can also download a spreadsheet copy by clicking the link in the Actions sidebar.
Ontario Water Operators
For Ontario municipalities, you can download the OWWCO XML file from the Actions sidebar to pre-fill the first page of the OWWCO renewal and upgrade forms for your water operators.
After downloading, open Adobe Reader, click "Edit", then "Form Options", then "Import Data" and select the XML file you downloaded.
We hope this has been a helpful guide for getting started with ArchwayHR software, particularly if you are transitioning from a tracking spreadsheet. Please contact us at info@archwayhr.com with any questions or feedback.